Yaram. the word means Body in Wolof of the Senegalese people. the body has a narrative, the body has a story. It is time to bring a new eye on black bodies that is not always the center of sexualization, mockeries, and judgments. It is time to read the story behind every single body that surrounds us. decolonize your mind, empty your spirit and bring a different gaze onto the glorious creation that serves as a vessel to our soul.
-------------------------------------------------------------------
Yaram. le mot signifie Corps en Wolof chez les Sénégalais. le corps a un récit, le corps a une histoire. Il est temps de porter un regard neuf sur les corps noirs qui ne soit pas toujours le centre de la sexualisation, des moqueries et des jugements. Il est temps de lire l'histoire qui se cache derrière chaque corps qui nous entoure. Décolonisez votre esprit, faites le vide et portez un regard différent sur la glorieuse création qui sert de vaisseau à notre âme.

A net was cast on black women. Trapping their body and mind. Made prisoners of outside forces asserting power over their body and liberty. A machine made for the sole purpose of controlling them. Controlling their lives, sexuality, body, and choices. This machine tries to control who cannot be tamed, break who cannot be bent. The net breaks once it touches the burning melanin. the black woman breaks chains, melts barriers, and shatters glasses. She outsmarts the machine.
---------------------------------------------------------
Un filet a été lancé sur les femmes noires. Piéger leur corps et leur esprit. Faites prisonnières des forces extérieures asseyant un pouvoir sur leur corps et leur liberté. Une machine, créée dans le but de contrôler leurs essences. Contrôler leur vie, leur sexualité, leur corps et leurs choix. Cette machine essaie de contrôler quelqu'un ne peut être apprivoisée, casser ce qui ne peut être fléchit. Le filet brule au contacte la mélanine ardente. La femme noire brise des chaînes, fait fondre des barrières et détruit le verre . Elle surpasse la machine.
Let's not make violence a tradition within us. rape, abuse, death. too many to count yet not enough for the world to care. Black women from various backgrounds, creeds, sexual orientations are subject to summary violence, sexual abuse, and domestic violence around the world and across time. Patriarchy, capitalism, imperialism, and colonialism have tried to break the core of our society.
now they stand, now they fight. touch them if you dare even in their naked boy stares are you with their bare skin out in the sun. they will fight because enough is enough, they will fight because no person or institution may have dominion over their body. They are warriors, goddesses, women and now they are ready for war. Expose every perpetrator, slay every plague of our community. Loving ourselves and our community also means accountability and consequences. Because the more we cover this plague it will only grow larger and destroy us from within. A society that can be broken from outside is already rotten from within (Kemi Seba)
--------------------------------------------------------------
Ne faisons pas de la violence une tradition chez nous. viol, abus, mort. trop nombreux pour compter encore pas assez pour que le monde s'en soucie. Les femmes noires de diverses origines, croyances et orientations sexuelles sont sujettes des violences sommaires, aux abus sexuels et à la violence domestique dans le monde et au fil du temps. Le patriarcat, le capitalisme, l'impérialisme et le colonialisme ont tentés de rompre le noyau de notre société.
Plus jamais.
Maintenant elles se tiennent en garde, maintenant elles se battent. Touchez-les si vous osez, même si leurs corps nue vous fixent de sa peau reluisante au soleil. Elles vont se battre car plus jamais. Parce qu'aucune personne ou institution ne peut dominer leur corps. Ce sont des guerrières, des déesses, des femmes et maintenant elles sont prêtes à la guerre. Exposez touts les mécréants, tuez toutes ces teignes de notre communauté. S'aimer soi-même et aimer notre communauté signifie également responsabilités et conséquences. Plus nous couvrirons ce fléau, plus ils grandiront et nous détruiront de l'intérieur. "Une société qui peut se briser de l'extérieur est déjà pourrie de l'intérieur" (Kemi Seba)

Nudity is a part of our African ancestry. it is a part of our cultural etiquette. African women have found ways to even ritualized and glorify their bodies in meaningful ways by adding ornaments, pieces of jewelry, and spiritual meaning. the culture of being topless for instance is present all over African culture (Togo, Ivory Coast, Ghana, South Africa, Kenya, Swaziland...) as a display of femininity and divine connection (1). It is often brought up as a means to shame black women that nudity is not a part of our culture, that is a perversion brought by foreign societies when in the contrary Westerners through Christianism and Arabs through Islam shamed the female body into hiding (2). Our culture is not perfect, Africans are flawed. We have mutilated and humiliated them but "it is our role to point out in our traditions the practices that alienate women" (3). It is time to free ourselves from those prejudices so we may perpetuate the culture of our body, explore, worship, and glorify. don't be ashamed, feel free. Show it if you chose, hide it if you must but do not let anyone shame you for your choice. The body is a temple, bow to down to the altar.
------------------------------------------------------------------
La nudité fait partie de nos origines africaines et de notre étiquette culturelle. Les femmes africaines ont même trouvés le moyen de ritualiser et de glorifier leurs corps de manière significative en ajoutant des ornements, des bijoux et une signification spirituelle. Le fait d'être torse-nue par exemple est présent a' travers les peuples (Togo, Côte d'Ivoire, Ghana, Afrique du Sud, Kenya, Swaziland, etc.) en tant que manifestation de la féminité et du lien divin (2). Il est souvent évoqué comme un moyen de faire honte aux femmes noires que la nudité ne fait pas partie de notre culture, que c'est une perversion venu des sociétés étrangères quand en réalité l'Occident à travers le christianisme et les Arabes à travers l'Islam ont condamnés le corps de la femme . Notre culture n'est pas parfaite, les Africains ont leurs défauts nous qui les avons mutilés et humiliés mais "il est important de souligner dans nos traditions les pratiques qui aliènent les femmes" (3). Il est temps de nous libérer de ces préjugés pour que nous puissions perpétuer la culture de notre corps, explorer, adorer et glorifier. n'ayez pas honte, n'hésitez pas. Montre-le si tu as choisi, cache-le si tu dois mais ne laisse personne te faire regretter ton choix. Le corps est un temple, inclinez-vous devant l'autel.
Osun, the deity of beauty, rivers, and sexuality. Osun is the channel by which sexual energy is a channel. Osun is more than a divine being of Yoruba culture, she is a lifestyle. Scholars such as Sylvia Tamale mention her in her study of African sexuality and describe the channeling of Osun is to affirm "the normality of sexual pleasure and the erotic" (1). In this vein through photography, I try to channel this gives energy as much as I can to reflect the Osun within every African woman. As she dances, vibrates she brings forth this power that blooms the world around her, shapes the light can brings down the veil between worlds. Let Osun possess you, dance with her, let her reveal your womanhood.
-----------------------------------
Oshun, la divinité de la beauté, des rivières et de la sexualité. Oshun est le canal par lequel l'énergie sexuelle traverse la femme. Oshun est plus qu'un être divin de la culture Yoruba, elle represente un style de vie. Des chercheurs comme Sylvia Tamale la mentionnent dans son étude de la sexualité africaine et décrit la canalisation d'Oshun comme etant : «La normalité du plaisir sexuel et de l'érotisme» (1). À travers la photographie, j'essaie de canaliser cette energie pour donner autant de force que possible afin de refléter Oshun au sein de chaque femme africaine. En dansant, en vibrant, elle produit ce pouvoir qui épanouit le monde qui l'entoure, façonne la lumière qui peut faire tomber le voile entre les mondes. Laisse Oshun te posséder, danse avec elle, laisse-la révéler ta féminité.
Powerful spirits are their witness. High seas and great tides. they are autonomous women, individual beings. African practices acknowledge female sexual freedom in many ways. the way they are, the way dress and the way they move.  let's talk about it for a moment, sex. She can be sexy, she can be sensual, she can be lustful, she can create envy even for herself. The sexual power channeled through her body, her womb the shakes every beads on her waist an every spark of her soul. she charms not for your pleasure rather for the entertainment of her own eyes. the contortion of her body you mistake for provocative dances are a worship to her goddess within. She is one with her divine self. Every touch, every sense, everything is tuned to the vibrations of a body. This is self love, this is self pleasure, this is self care. she is not touching herself, she is communicating.
----------------------------------------------
Les esprits puissants sont leur témoin. marées hautes et eaux tumulteuses. Ce sont des femmes autonomes, des êtres individuels. Les pratiques et tradition africaines reconnaissent la liberté sexuelle des femmes de nombreuses manières

(1)

. leurs maniere d'etre, leurs vetements et leurs gestes. parlons-en pour un instant, le sexe. Elle peut être sexy, elle peut être sensuelle, elle peut être lubrique, elle peut créer l'envie même pour elle-même. Le pouvoir sexuel canalisé à travers son corps, ses entrailles, secouent chaque perle sur sa taille et chaque étincelle de son âme. elle ne charme pas pour votre plaisir mais pour le plaisirs de ses propres yeux. la contorsion de son corps que vous confondez avec des danses provocantes est un culte à sa déesse intérieure. Elle est une avec son etre divin. Chaque contact, chaque sens, tout est accordés aux vibrations d'un corps. Ceci est l'amour de soi, ceci est le plaisir de soi, ceci est soin de soi. elle ne se touche pas, elle communique.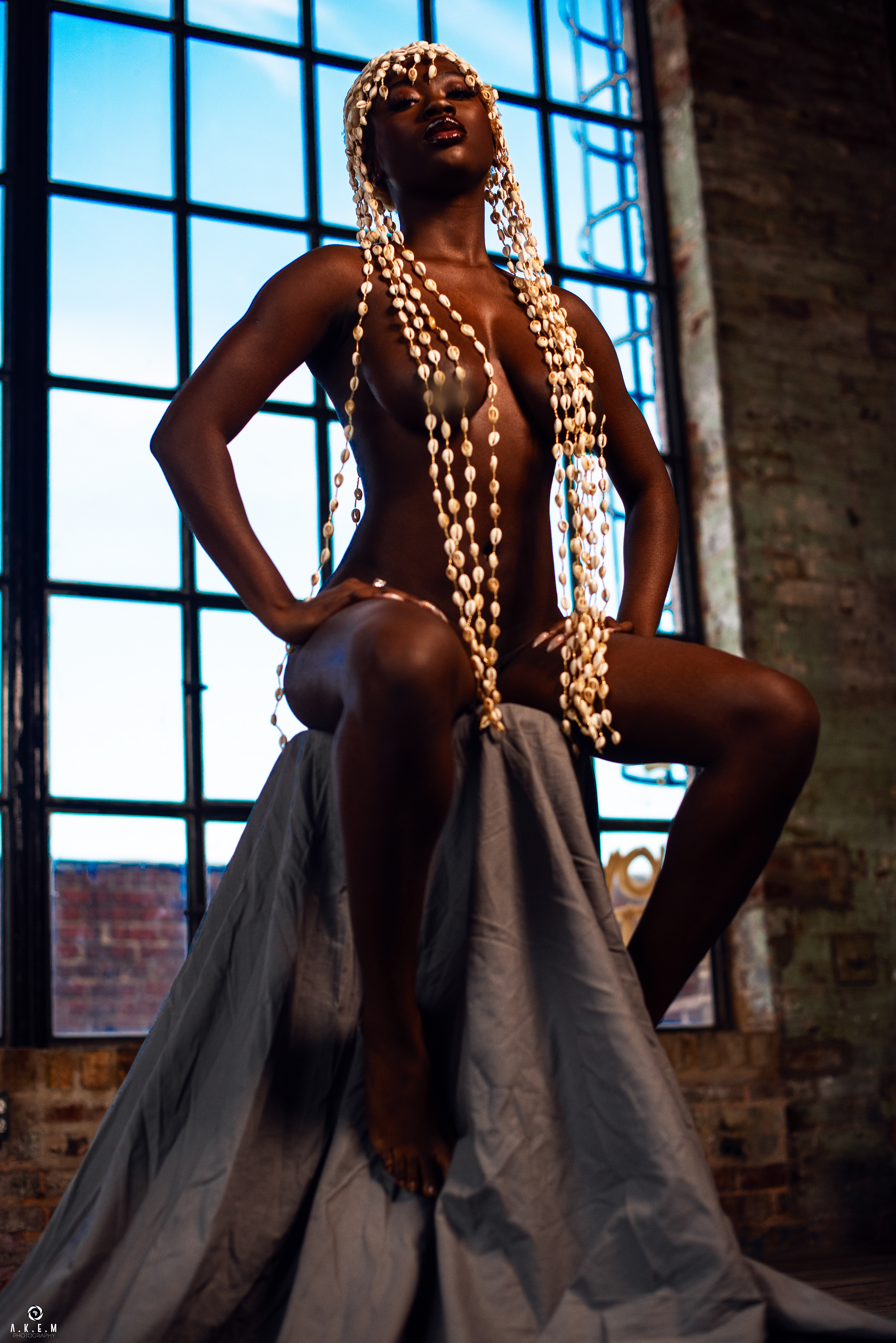 " Ton mirroir est temoin du plaisir que tu t'offre chaque nuit Il te vois jouer jusqu'a ce que ton corps s'epuise Il retient les preuves de ton plaisir
Ton lit est temoin aussi quand tu te dandines sous les draps, quand tu mouilles d'elixir, quand tes gemissements s'etouffent dans tes oreillers
Ceux la meme qui se retrouvent par terre quand tu ne sais plus ou te mettre et que tu atteins les sommets sous ta propres expertise.
qui t'as dit que tu avais besoin d'aide?"
@ENTRECUISSE
-----------------------------------------------------
"Your mirror bares witness to the pleasure you offer yourself every night. He sees you play until your body runs out. He holds the evidence of your pleasure
Your bed is also a witness when you waddle under the sheets, when you drip your elixir, when your moans are muffled in your pillows
The same ones who find themselves on the ground when you do not know where to put yourself and you reach the summits under your own mastery.
who told you you needed help? " @ENTRECUISSE
Love is trust, love is sacrifice, love is death. unconditional is the love between us. The love that unites us can also be the love that betrays. It is a journey, it is a quest. A tale of passion, a tale of devotion, a story of mutual care. Let's be free to love, free to care for each other even when the fear of adversity lingers. know yourself, love yourself, love and protect each other, those are the principles of pan-Africanism and pillars of the black communities. Let's not be afraid of this affection we bring to each other, let's not be ashamed of the patience and trust we share as a whole. Relinquish, let go, yield and the same shalt be awarded and crowned with growth

---------------------------------------------
L'amour est la confiance, l'amour est le sacrifice, l'amour est la mort. inconditionnel est l'amour entre nous. L'amour qui nous unit peut aussi être l'amour qui trahit. C'est un voyage, c'est une quête. Une histoire de passion, une histoire de dévotion, une histoire de soin mutuel. Soyons libres d'aimer, libres de prendre soin les uns des autres, même lorsque la peur de l'adversité persiste. Se connaître, s'aimer, aimer et se protéger, tels sont les principes du panafricanisme et les piliers des communautés noires. N'ayons pas peur de cette affection que nous nous portons, n'ayons point honte de la patience et de la confiance que nous partageons ensemble. Abandonnez-vous,  laissez-vous aller, cédez et le même vous sera récompensé et couronné de prosperité

This collection was a poetry and celebration of the black body. Raising awareness of the fights and struggles that black women have to go through with the spirit and mind. the fight is real and we stand all together as men and women to make sure everyone in our community is free. We can't be know as the community that is constantly fighting and women cannot always be first line of the defense. They can't fight alone and we can win on their dime. We are black together, we stand and fight together because our fates are bonded.

---------------------------------------------------
Ce recueil était une poésie et une célébration du corps noir. Sensibilisation aux combats et aux luttes des femmes noires. le combat est réel et nous sommes unis entant qu'hommes et femmes pour nous assurer que tous les membres de notre communauté sont libres. Nous ne pouvons pas être connus comme la communauté qui se bat constamment et les femmes ne peuvent pas toujours être la première ligne de la défense. elles ne peuvent pas se battre seules et nous pouvons gagner à leur compte. Nous sommes noirs ensemble, nous nous battons ensemble car nos destin sont liés.
Sources
(1)

Sylvia Tamale, African Sexualities, 2011
(2) History of Africa, Shilington, 2012