The Kunyaza is an ancient practice in Eastern Africa, particularly in Rwanda, but also in Kenya and Uganda. This practice is a set of techniques intended to trigger feminine orgasm and even feminine ejaculation. This series gives a window into women's pleasure, Sensuality and seduction. Building a collection that is a beautiful crossover between erotic seductive art with a
dash body expression. It is about making the black woman a lust and erotic vessel
while also serving as a channel to represent mother nature, womanhood, and more
immaterial concepts. Eroticism described by Audrey Lorde the power of seduction,
beauty and ancestral affirmation through our beauty. The series is meant to harness
the attractive yet shocking aspect of erotic photography. Moreover, presenting the
series as unfiltered, uncensored, limitless and fully unleashing the expression of the
body. Most importantly, this project is a space. A space of expression, sexual therapy,
affirming one's sexuality, kink, seduction and release. Seeing every part the black woman's body as beautiful, sensual and her own.


To some, there is a thin line erotica and pornography. Perhaps there is. Ultimately they are different. Erotica carries power, seduction, charm and much more. There is a soul, there is life and feelings. It does not seek to sell, it does not seek create addicts.
"… pornography is a direct denial of the power of the erotic, for it represents the suppression of true feeling" AUDRE LORDE, "Uses of the Erotic"
"EROTICISM: The powerful life force within us from which spring desire and creativity and our deepest knowledge of the universe. The life force that flows like an inscrutable tide through all things, linking man to woman, man to man, woman to woman, bird to flower, and flesh to spirit. Our ancestors taught us this in their songs of love, their myths of creation, their celebrations of birth, and their rituals of initiation. Desire. Pleasure. Wholeness." Miriam DeCosta-Willis, Reginald Martin and Roseann P. Bell. Erotique Noire/Black Erotica
Black women dance, black women chant, black women play. Calling the power of seduction within them, for them. A bond between them and nature. It is practiced accross the land of our African ancestors. the secrets of female ejacualtion in practice of Kunyaza of Rwanda, Senegalese seductive waistbeads, Ghouro and Mapuka dance in Cote D'Ivoire all in the goal to harness the divine energy of seduction. It is present everywhere in the diaspora, beyond Africa, the Caribbeans, Americas, Europe. We are aware of it, we recognize it can celebrate it within us.  One of the many treasures carried.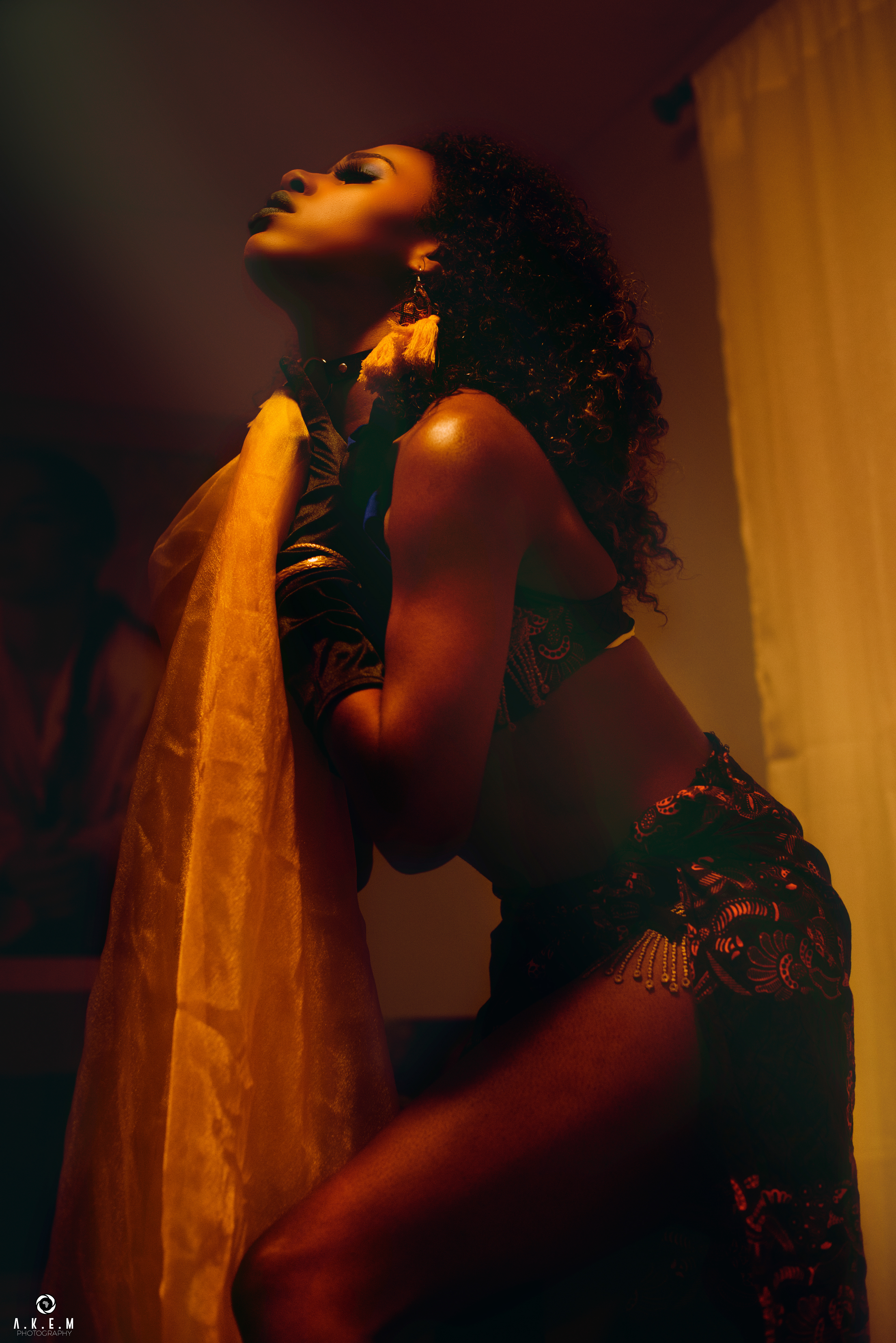 "The erotic is a resource within each of us that lies in a deeply female and spiritual plane, firmly rooted in the power of our unexpressed or unrecognized feeling. In order to perpetuate itself, every oppression must corrupt or distort those various sources of power within the culture of the oppressed that can provide energy for change" Audrey Lorde, The Use of the Erotic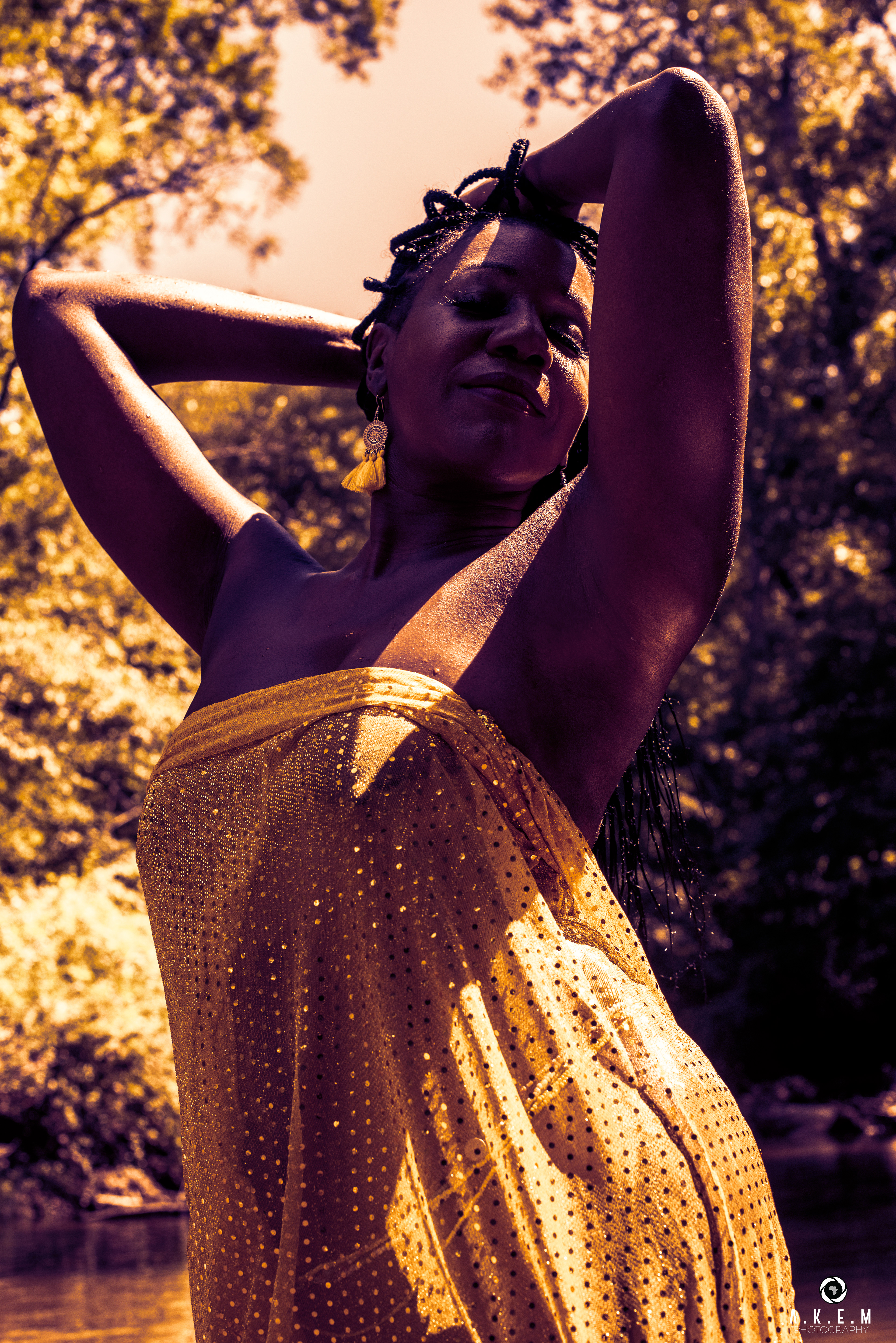 "the body is a fine-tuned instrument of pleasure" Miriam DeCosta-Willis, Reginald Martin and Roseann P. Bell. Erotique Noire/Black Erotica
Owning the body as your own. Taking constant care of the erotic self. Tuning, adjusting, playing, exploring. Your body is yours and yours alone. No one dictates who deserves to be sensual, no one can shame your body for being yourself.  Let your body play the sweet melody.
Using the gems and jewelry of our culture. Bringing out a spirit of seduction, channeling a goddess inside. They make us aware of our body, our beauty, our sedution. These gems help them move, empowered. The erotic is power. Not just sexual power. A power of creation, a power that bends the soul, a power to acknoweldge the strengh of this existence. Talisman that harnesses the energy the body cannot sustain on its own.

Pearls, stones, colors . Erotic stimulation.

Erotic Therapy
Mental disorders. Stress, depression, anxiety... plagues of our community. Yet, the erotic is often used as a safe harbor to attempt a healing of ourlself. The way to move, distort the body, embrace and cease. The erotic is channeled to create a wider range of the body expression for mental disorder. Regain control on the mind, excaping the suicidal thoughts, forgetting the danger of anxiety. Seek help, knowledgable help but forget not, your body does the work at the end.

Relinquish. The illusion that is given of surrendering power. Who truly holds the rope. Does it matter?

Guitlness, shameless exploration of kinks. The added spice of erotica. Channeling pain, restraint and more in order to affirm more of what we are. Liberating the black woman's sexuality. A sexuality that is often denied, demonised. Even me as the other wanted to take an oppressive approach on the art of Chibari until the muse called me upon changing the way I wish to interprete this beautiful art. Understanding the meaning of kinks and what they mean tO US.
Pleasure? pain? liberation?
Yes

"By masturbating I am learning to love my body. I touched the softness of my flesh and licked the creases of my hands. When I did this I felt me and tasted me. I was playing both roles as giver and receiver of pleasure. I was in total control." R.H Douglas - Dear Diary - Miriam DeCosta-Willis, Reginald Martin and Roseann P. Bell. Erotique Noire/Black Erotica (p. 280).
Masturbation. Shamed, mocked, frowned upon by many institutions. Disregard all norms and see it for what it is. Self love, self care, healing. Making love to ourlselves in a way now truly can. Finding the way to our own pleasure, tapping into the erotic energy. Travelling the realm of the of self-pleasure. It is a ritual for many and a romantic encounter with the body. Showing love and appreciation to the body. Reconnecting bridges broken by trauma, neglect, self-hate. Stimulate the sentient energy. It is for everyone, every single women. Sensuality for all women. 

A spark, a fire and an explosion reverbering around us. This climax, waking the ase on its path.
Beauty for beauty, charm for charm and pure aestethic.

This series was by far the most intense, charged and complex topic I've ever addressed in my art. Erotica was a great experience for me, something I thought it was important to venture in to comprehend more on the African/Black women I seek to understand and empathise more everyday as an African man.
It was a journey into understanding how black women interact with themselves, there sexuality and own there own sensuality. There were many challenge and in many way this series everything but finished and perhaps will never be, at least not in one website page. An observation I have made was it was rather difficult to convince darker skin women participate in the project. It took me while to even notice that all the respondents were of a lighter complexion. Upon a few theories and research I remembered that given the history of black women in the United States it was much difficult for darker women to be more overt about their personality because the colonial society did not empower nor enough them to do so or at least by there own accord. It was a privilege for me to see that some of the muses will use the opportunity of the photoshoot as a literal therapy and cleansing space. Coming out of the session feeling empowered and healed. Proud to promote jewerly makers from my home country such as
Afflemas
,
Tendance Perles
,
Lafalaise Dion
and
Lyanel Handmade
It is time to break those chain, African women of the world, dark, light, albinos, mixed, thin, curvey, disabled... I encourage you to empower yourselves into owning your sensuality, body, beauty and exitence. Charm does not belong to one group, sensuality is not restricted to one body type. It belongs to all.
Don't be afraid no more
"this world is blind 
and slight of mind
and cannot see 
how beautiful you are.
I saw your light.
And it was shinin"
Assata Shakur - Rhinoceros Woman
Credit by order of appeareance
Jewerlies and accessories provided by
- END-